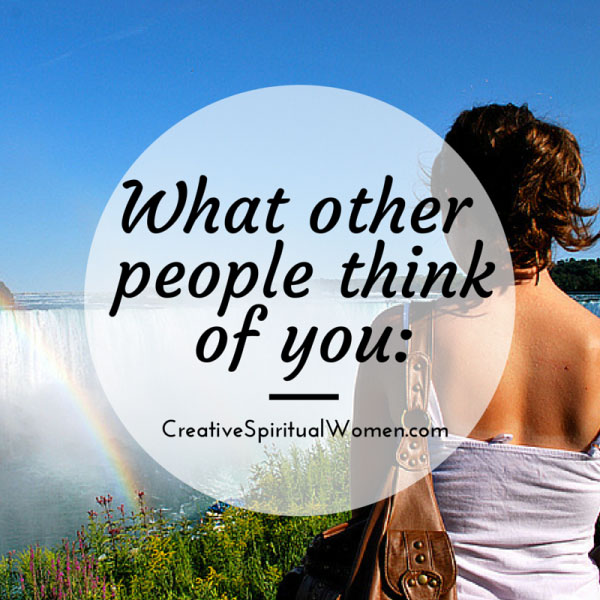 "Reality—the way that it is, exactly as it is, in every moment—is always kind. It's our story about reality that blurs our vision, obscures what's true, and leads us to believe that there is injustice in the world. I sometimes say that you move totally away from reality when you believe that there is a legitimate reason to suffer. When you believe that any suffering is legitimate, you become the champion of suffering, the perpetuator of it in yourself. It's insane to believe that suffering is caused by anything outside the mind."

-Byron Katie, A Thousand Names for Joy
Our responsibility with our thoughts is twofold: to understand that our own thoughts are the cause of our suffering, and to understand that others who are suffering are believing their thoughts. This can give us incredible compassion when dealing with other people.
One of the quickest ways to suffer is to think and worry about what other people think of you. If your own thoughts are causing you suffering, why would it benefit you to guess at (and be bothered by) someone else's?
A dear friend told me not too long ago that her mother disagreed with the way she was raising her daughter, and was fearful of my friend's plans for the future. My friend is making slow, steady steps into a more sustainable lifestyle, both for her family and the planet, and living the way she has for ten years is no longer desirable to her. As her mother voiced her opinions, my friend felt herself pulled between hearing the pain and fear in her mother's voice, and wanting her mother to not suffer in that way. Her mother actually said she was causing her to be unhappy!
Although the pain is very real to the mother, the idea that someone else can make you happy or unhappy is ridiculous, if you think about it. Anyone who believes you're the cause of his or her pain is, as Byron Katie says, confused. Only your thinking about a thing can cause you pain or happiness.
"There is nothing either good or bad, but thinking makes it so." – Shakespeare
So how do we bridge the gap between knowing it's not in our power fix someone's pain, yet still have compassion for them? What about when they come to you and say, "You were supposed to do X! Because you didn't, Y and Z happened and it's all your fault!"
Whether or not their story of pain is about you, being present with them is the absolute best thing you can do.
When you're present, you can hear what they're really saying. And what they're really saying is, "My beliefs about reality didn't come true, and I'm angry. I am stuck believing this story of what I thought should've happened, and who's to blame. Ultimately, I can't be happy and present now, because I'm wrapped up in my own thoughts."
I have infinite compassion for this. I lived the hell of believing my stories. I lived the hell of being unable to get comfortable with myself. I've so been there. But I have to take away my stories and my suffering in order to be fully present for them. Otherwise? I can't hear what they're saying, and I won't respond in a way that will truly help. What's worse, if I respond from my ego, I'll be co-creating the story of pain and suffering with them and we'll spiral into blaming ugliness.
When you're present, you can speak to what they've really said, instead of what your ego heard. "I completely understand. You weren't expecting this. You weren't prepared for this. Now you have something different to deal with."
Until someone else knows that peace and happiness is inside, and it's here every moment, they're going to keep believing their stories of pain. There is nothing we can do or say that will make them ready to stop believing their stories. We can only be present with them (and ourselves) at every moment, mindful of what is happening now, and not attaching our own stories (and egos) to what's happening.
Here's what I've found works best, both to remind myself to stay present and to give others the space (if they're ready) to calm down and believe a different story:
How To Be Present with Other People's Pain:
1. Stay in love. Love them. Just love them. Just by acknowledging they're in pain and loving them anyway, you can hold an incredible space of healing for them.
2. Take your ego OUT. We want so much to feel defensive when someone tells us they're hurting and we're the cause. When you remember and truly get it that you're incapable of hurting them, only their stories are hurting them, you're free. Your ego can't operate in that. If you're in a battle with your ego and aren't clear on this yet, do something to buy yourself time. Tell them you are so sorry that happened, and you're right in the middle of something, and you need to call them back (or see them, etc) in a little while. To bypass your ego, try these steps:
-Intend to see this situation in love, to be love. Your intentions are incredibly powerful. Just by deciding you want to take the loving road, you greatly increase your power to do so.
-Fill yourself with love. When you are a vessel full of love, there is no place for ego. Write down 50 things you love (or 100, or 200). Keep writing until your soul sings. I do this often and it works.
3. Stay present. You can't take away the past, you can't fix the future, but you can be present with them now. This is also a beautiful way to listen. Remember that you don't have to fix it. Listen to what the person is really saying. They may be saying that they're overwhelmed, or they're frustrated, or they're scared they won't be able to handle the situation now. Be present for them. Honor their emotions so they can begin to move on from them.
4. Hear what they're really saying. Often, we mask our real emotions with stories. Listen for the underlying emotions and honor them simply by acknowledging and hearing them.
5. Keep loving them. This is truly the core of this entire list. To keep your ego at bay, to stay present, to listen, to honor their emotions, you must continue to love them. When you meet everyone in your life with unconditional love, everything changes, everything becomes lighter and easier. There is no story of the past, there is no projection of the future. You're just loving them now.
Special note for gorgeous souls that have a tendency to overfix, over-extend themselves, and over-promise solutions:
When you're practicing being present with someone's pain, be aware of your need to fix it for them. Often, our "doing" is our own way of not being present, because we're not comfortable with someone else's pain.  The moment you start to imagine what you can do to make it better, you're taking yourself out of the present moment.
When you know that the only thing that can make someone hurt is their own thoughts, you realize how silly and egoic it is to believe that you can make them happy. Even if they outright tell you, "I won't be happy until you fix this!" you can know that it is only their story of being unhappy (and the silliness of putting that on you) that is making them suffer. Sometimes, they need to know that you're not going to jump for their happiness, and what a blissful thing for them to learn when they see that they are in control, not you.
Remember: the most loving thing you can do for someone is to be present with them now.