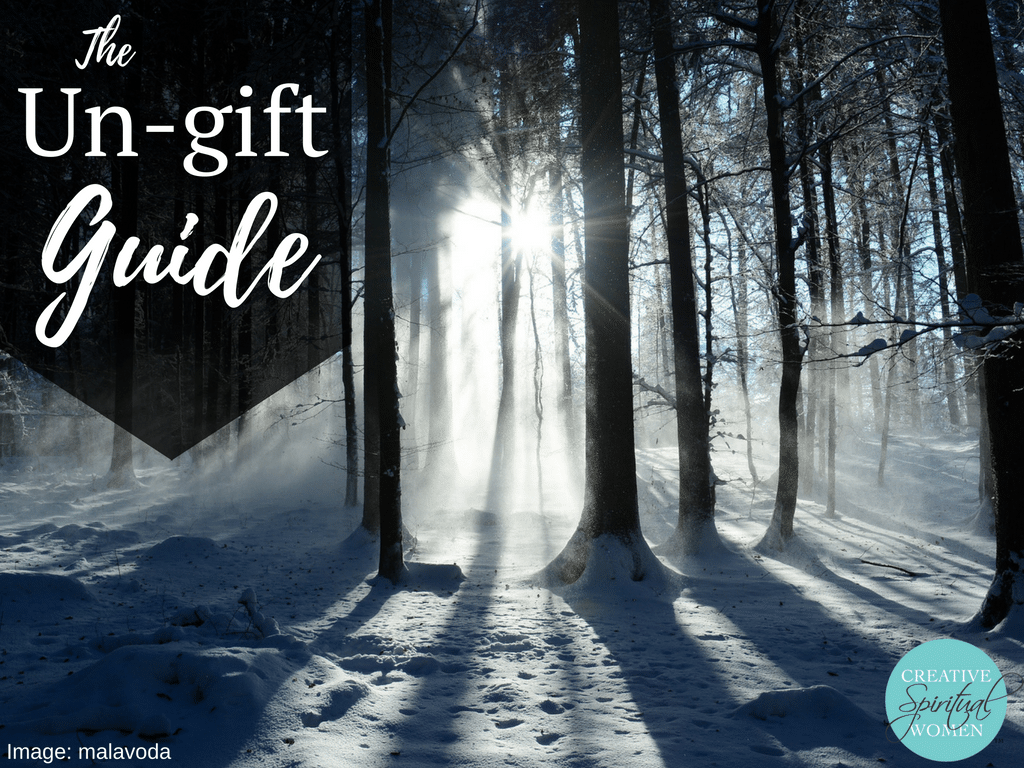 In my last post, I shared my gift guide of things I love & hoped you might love too.
Now, I'm sharing with you a much more important list: my Un-Gift Guide. We take a lot of time considering what we should buy, and adding to our lists, and feeling ever more obligated to do more, be more, have more. May I suggest that you spend at least half as much time editing your list and consciously removing items that don't bring you joy?
I recommend you don't buy:
Gifts for people you only feel an obligation to. This passes your obligation to them, as they then feel obligated to you. Stick with gifts for friends and family that would delight you to buy for, that you are inspired to buy for, that make you feel like you're getting a gift by giving one to them.
Any food you don't absolutely love. This includes junk food, holiday food, traditional food- anything you're buying or tempted t0 consume that you don't really love. (There is so much holiday food to love, why waste time on the fruitcake?)
Decorations you don't love, or resent putting up or taking down.
Someone's love or approval with your words, actions, or gifts. If someone doesn't like you, great! It means they have working free will and they're exercising it. Exercise your own and hang out with people who you adore & adore you.
I believe life is too short to spend it on obligations, frustrations, wanting approval, and food that you eat mindlessly while angry at yourself for doing those things.
Think of this as your holiday, your joy, your itinerary, your traditions. What would you love to do? Who would you love to spend time with? Where would you love to go? Do that- and eliminate the rest.
"Holidays are about experiences and people, and tuning into what you feel like doing at that moment. Enjoy not having to look at a watch." -Evelyn Glennie
Bonus: Don't buy into guilt for not doing any of the above, or for doing less than you or someone else expected of you. Instead, sit back with a cup of hot chocolate, put your feet up, and watch the snow fall, knowing you are complete- just the way you are.