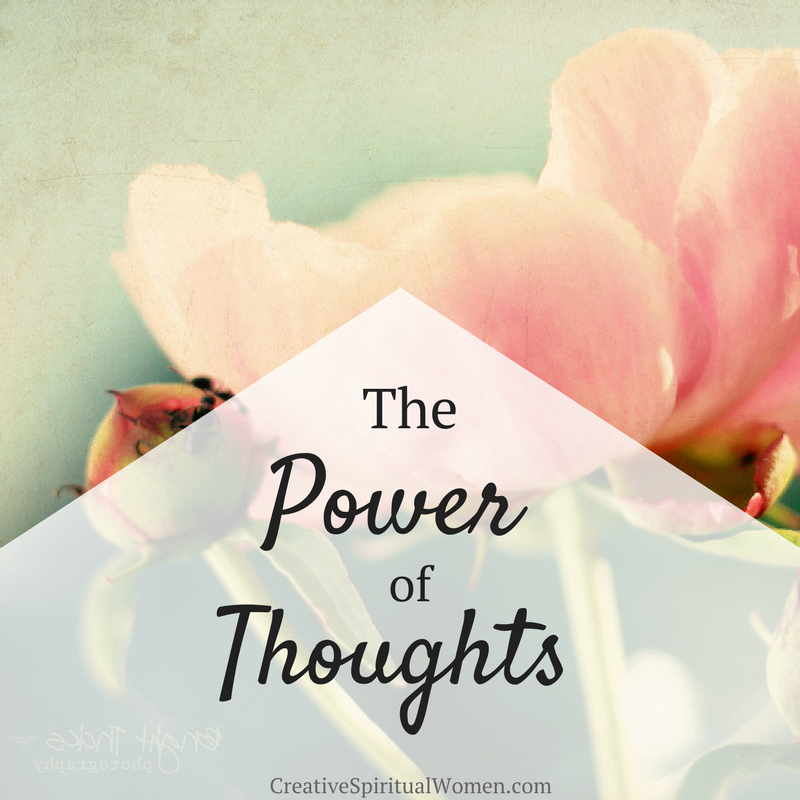 I've been working on a more in-depth course for training your thoughts, and one thing I didn't mention in my previous articles here is this:
Don't give thoughts so much power.
Don't be afraid of your thoughts. Don't let them control you. Don't be worried or anxious when thoughts come up that aren't ideal.
This is seemingly opposite of what many modern teachings say- which is how powerful our thoughts are. I don't disagree, but there's more to the paradox. Taken at face value, the idea that our thoughts are all-powerful has made some of us a wee bit terrified of the moments when negative thoughts flash in our brains, and we envision something horrifying. "I hope I didn't just make that happen!" we might think, and then spiral into a bit of self-loathing and shame. It's that very spiral and shame that can cause us to do and act in ways that make our negative thoughts come to pass.
That, if you're paying close attention, is where the power is.
Not in the thoughts themselves, but in the emotions that follow when we attach and identify with them.
What are Thoughts?
I see thoughts as huge thought-clouds that hang over whole areas- over cities, regions, even neighborhoods and houses.
Thoughts, like clouds, are not personal. They can't be. Just like the rain that's spilling onto your grass isn't there because you are inherently good, bad, or indifferent, the thoughts that flow through your mind are simply the vapors of the thought-clouds that surround you- as a resident of your home, your city, your country, this world.
Have you noticed that when you're in a different group of people, you'll often think differently? When you're around people you admire, or who are positive and joyful, your own thoughts tend towards that? Or when you're around negative people, maybe even just in less cared-for places and spaces, your thoughts are less positive and lower energy?
I've often wondered if the energy of a place and the people in it create the thought clouds that form- much the same way a toxic lake will evaporate into toxic rain clouds, and pure spring water will evaporate into clean, refreshing rain clouds. Perhaps when the energy of an area, event, or person is discharged, a matching thought-cloud vapor is created.
I began to see these concepts of world-wide thought clouds even more clearly when I started coaching dozens of people around their thoughts. So, so many of us think, "I'm not good enough." "I'm unworthy." "I'm going to be found out/I'm an impostor." "They'll reject me." "I'll fail." "I won't be liked for who I truly am." "I can't tell the truth."
These certainly feel like the most personal thing you could think. How could these thoughts not be about the person thinking them?
But truly, your thoughts are not you.
Here's where your power lies.
You don't have to believe any of your thoughts.
It's the attaching to and believing the thoughts that gives the fire oxygen.
When you're the witness of your thoughts, and not automatically believing everything that pops into your mind, you are now wielding what I believe to be one of the most powerful tools available to humanity.
As the observer, the witness to your thoughts, you can question every single thought you ever have.* Even the ones that you know to be true, you can question them, just for the fun of it. Just for the mind-puzzle.
When you do this, you can invite better thoughts in. I've never known it possible to "force" yourself to do anything by sheer will. But when you accept what is, and dialogue with it, and invite it to dance with its opposite- then something beautiful unfolds.
Here's how that might look for you.
You have the thoughts, "I'm stuck. I'll never get past this. I'm not smart enough to figure it out."
Great. Now we simply welcome the thoughts (instead of resisting it) and then invite the opposite. This is great to write out if you can, so you can see your thoughts on paper. They're less slippery that way.
"What if I questioned the idea that I'm stuck? What if I said, maybe I'm not stuck. Could that be true? In what ways am I not stuck?" Or, to turn around the verb, "In what ways am I free?'
Or, as I've heard it said, "Doubt the doubt."
When you doubt your ability to do something, doubt that thought.
"What if it's not true that I can't? What if I could?"
I invite you to take a look at some of the thoughts and stories that you've defined your life by. These thoughts could be distilled to, "I'm not good enough." or be a long story of things that happened to you to give you problems and trials you never recovered from.
These are particularly painful, at first glance, to question. It can feel like you're questioning the core truths of your life. I know, because I was so identified with a few of my stories from childhood that I'd virtually built my life around them. When I questioned them, I had to re-learn what I now believe is my history. I had to change the way I interact with people, because my story of their role in my past had changed.
Ultimately, it's incredibly freeing. Allow yourself to get past the initial discomfort, and be willing to be truly free.
The Quick & Easy Checklist to Questioning Your Thoughts:
Identify what you're thinking now
Welcome it
Play with the idea that the opposite might be true
*Byron Katie's Work does an excellent job of this.