Alia of Inner Bliss Blog shared with us of her sheroes- Julia Fehrenbacher of PaintedPath.org!
Alia writes:
From the moment I stumbled upon Julia's blog, I knew she was a kindred spirit – a soul sister. She is the most beautiful embodiment of pure love and truth. She freely shares from her heart in everything she does. I am so blessed to be able to call her "friend."
I had been to Julia's site a few times and read her magnificent poetry. I admit I was more than a little in awe of her- she truly lives the presence and mindfulness that has become so important to me.
To my total delight, when I asked Julia if she would do an interview with me for the site, she said yes!
You'll never guess what happened next.
I completely missed my appointment with her.
I was so embarrassed. I completely messed up. And she handled it with such grace and presence that I was not only lifted from my total embarrassment, but was privy to an incredible lesson in handling unexpected situations. Before I even got to talk to her, I was learning from her!
Right-click and save this file to your hard drive if you want to listen to it in your car. Otherwise, just click and you'll be able to listen to Julia's incredible advice to us all. (30 minute audio)
Thank you, Julia, for sharing your (rescheduled!) time with me and your wisdom with us all.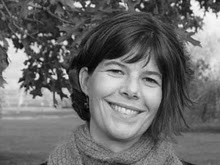 Interview with Shero Julia Fehrenbacher