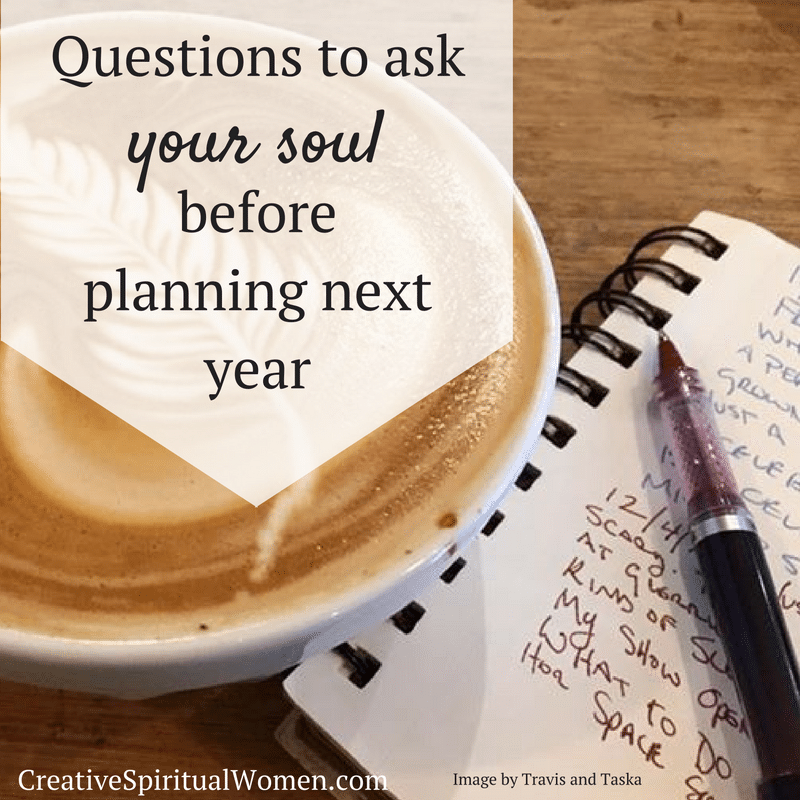 Start at the End
At the end of your life, during your moments of reflection, what will you wish you'd done? What will you be most proud of? Imagine being in that place for a moment, and really feel this out- what does your soul wish you'd done in the world?

Now, plan this year as the year you accomplish that. Or, if it's a biggie (and our soul's desires often are) plan 2017 as the year you devoted your life to starting it.
A word to the wise (and, honestly, my past self, who used to do this exercise from a place of judgement, guilt, and "shoulds") if you do this exercise and what comes up for you makes you feel annoyed, angry, resentful, uninspired, bored, or like you'd rather just check out now than accomplish that thing- THAT IS NOT YOUR THING.
Also, if your thing feels good to you, but you start to feel all sorts of fears and doubts, if you start wondering if you need 3 Ph.D.s and a billion dollars in funding before you get started…THAT IS DEFINITELY YOUR THING.
The criteria I use are:
1. Does it make me smile from inside my soul? Does some hidden part if me that obviously has not read the memo on how incapable, unworthy, and HUMAN I am, light up when I think about it?
2. Does it scare the socks off the rest of me, the parts that obey the rules of society, the parts that think I'm just… (insert your JUST: human, not capable, not smart enough, not dedicated enough, not tall enough, not bold enough, not wealthy enough…I could go on for days) ?
Because FEAR = THE PATH
I'm not interested in following society's laws as much as I am my own soul.
Society will not be patting me on the head at my deathbed, telling me I did all right.
I get to live with me for the rest of my life. And, it's generally accepted that I'll get to live with some form of me for eternity.
I'm not going to let fear stand in the way of what my soul is yearning to do in this world.
So what will your new year look like now?
Mine will be getting together groups of people to play with consciousness, because that fascinates me, lights me up, and terrifies the part of me that thinks we should always play by the rules.
Share yours below.
Love,
Crystal