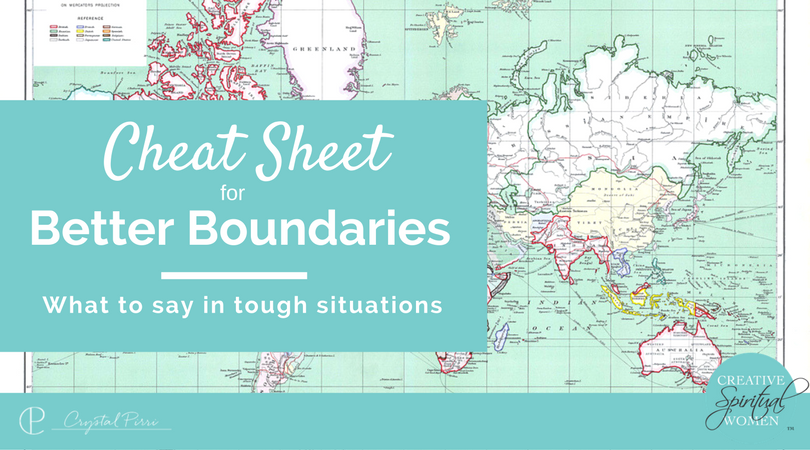 "When we fail to set boundaries and hold people accountable, we feel used and mistreated. This is why we sometimes attack who they are, which is far more hurtful than addressing a behavior or a choice."
― Brené Brown
Yesterday morning, in a candle-lit loft under a red net canopy, with the cool breeze blowing softly through two small windows, our monthly Goddess Circle group met. The prompts led us to discuss boundaries, and as we helped each other with the practical words and phrases to use, one woman mentioned she wished we had a script for all these situations, a sort of boundary cheat sheet.
There are two approaches to this request, a sort of "chicken or the egg" paradox. First, you can observe how others set good boundaries, and practice what they do, trying things on from what you learn and discovering how it feels for you. This will begin to create the inner shift for you, and with practice you'll become that person who sets good boundaries.
Another way is to come first from that sovereign place within you, and stand in your truth inside- and as situations arise that require you to say this or that to reestablish a boundary, it will already be more natural for you, as you've made the inner shift.
Of course, you can practice a blending of both. While you're on the path to changing inside, begin to change your external practices to match what you desire. While I'm changing my stories of myself (see the Guide to Mindful Habits for more info on how to do that) I am also living into those stories in practical ways.
To set better boundaries, you must first become the woman who is strong in her boundaries. What does that look like to you? If you were to embody a strong, loving, feminine energy, how would you set boundaries differently? How would you set different boundaries with yourself? We often talk of setting boundaries with others and saying "no", but we don't practice setting and holding limits with ourselves. What does that look like? Watch women who are good at this, and barring having that great example (and I admit, it's hard for me to think of many women who have shown this to me) imagine how you'd like it to look, and start there.
Then, you can complement this with your practice of the external- saying what your truth is and using the examples and this cheat sheet, instead of, say, dancing around the issue or trying to appease someone.
Boundaries Cheat Sheet:
"No." Use this for anything and everything. No explanation needed.
"No" is a complete sentence."
― Anne Lamott
"No thank you." Perhaps more polite, still used for everything, and a complete statement.
"I love that you're creating a new group. Perhaps I'll join someday, but right now I won't be joining you." or even, "I won't be able to make it to your new group, and I'm praying it's amazingly successful for you."
"Thank you for your excellent question, and I believe it deserves a thorough and honest response. It would be remiss of me to answer it now, before I have enough information. I will get back to you by X date."
"This event requires much of my time and energy to prepare for. Please RSVP only if you truly intend on coming. We will prepare as if you will be there, and expect you."
"When you get angry at me even when you've agreed to do something, I feel manipulated, and as though I can't trust you. Is that true?"
"I understand things have changed for you. However, you've given me your word. How can we work things out so you get the time you need and I get what you've promised me?"
"When you said [unkind thing] to me, I was deeply hurt. I've considered you a close friend, and I can't imagine you understood how much that comment might affect me. In order to maintain our closeness, I want to tell you how that affected me and see what's going on for you."
"I won't allow you to treat me that way. I love you, and I love myself. The kindest thing I can do right now is to remove myself from this situation and stop allowing you to hurt me." – This one might not actually be said, but it's the energy that you embody which will say it all.
"Love yourself enough to set boundaries. Your time and energy are precious. You get to choose how you use it. You teach people how to treat you by deciding what you will and won't accept."
― Anna Taylor
What are your favorite ways of setting boundaries? What situations do you need to set better boundaries in? Let me know and we'll add to this list.
Much love,
Crystal