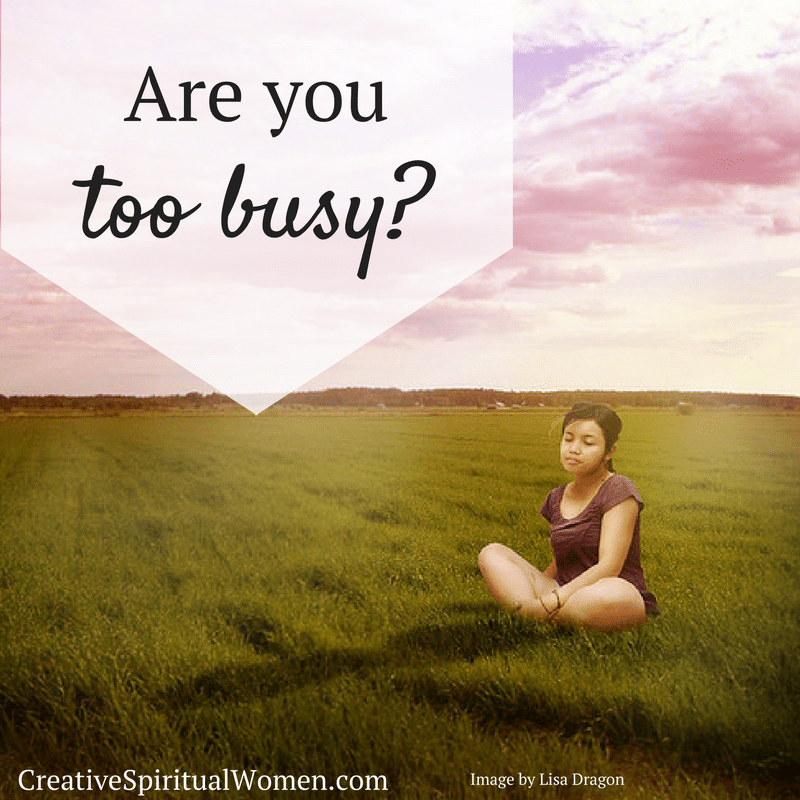 Are you too busy?
Do you feel rushed?
Do you worry about getting everything done?
Do you complain that there isn't enough time in the day to do what you want to do?
You don't ever have to feel rushed again. You don't ever have to feel anything but calm contentment and the oceans of space and time in your day.
How to Stop Busyness and Cultivate Calm
1. Recognize the stories and thoughts of busyness.
Sometime in the past week, I picked up the belief that I was really busy, that I had a lot to do, and that I would need to rush to complete it all.
It was a very uncomfortable feeling.
Being uncomfortable means I'm not being present and loving. When I resist something, I feel uncomfortable. When I believe an untrue thought, I feel anything from discomfort to severe pain.
I knew I could turn it around, and as a result, I'm back to an incredibly peaceful state of contentment and ease. Completely unintentionally, I got more done than I expected, and my stress level hasn't spiked in order to be "productive".
Once I started paying attention to these thoughts and stories, it made it so much easier to change my thinking to something else. Pay attention to the stories that seem to imply lack or not enough-ness: "I don't have enough time." "I can only do so much." "There are only so many hours in the day." "I'd love to, but I can't fit another thing into my schedule."
2. Become aware of the way busyness and not enough time feel in your emotions. For me, my heart feels tight, my stomach feels heavy and it almost seems like my blood is racing. My mind darts from one thought to another and I feel fear that I won't get enough done. Sometimes it's as simple as frustration or a sense of overwhelm. Once you acknowledge these emotions and begin to notice them as they're happening, you take the control away from the feelings and can actually choose something different!
3. Replace the busyness thoughts with thoughts of enoughness, gratitude, and ease. The moment you begin to believe the story that you don't have enough time, you have too much to do, you're not going to get it all done, you begin to make it true and feel that stress wash over you immediately.
"You are creating your life with your thoughts and your feelings. Whatever you think and feel creates everything that happens to you and everything you experience in your life. If you think and feel, "I've got a difficult and stressful day today," then you will attract back to you all people, circumstances, and events that will make your day difficult and stressful. If you think and feel, "Life is really good to me," you will attract back to you all people, circumstances, and events that will make life really good for you." -Rhonda Byrne, The Power
Remind yourself, over and over if necessary, that all you have is this moment, that you have an eternity to do what you need and want to do, and that nothing is going to break, fall apart, or be ruined if you don't do it right now. Your presence, love, and ease are infinitely more valuable to the universe as a whole than any "thing" you can do quickly and with stress.
As you change your thoughts, the more present and calm you'll become. I swapped out "I'll never get this done" and "There's not enough time in the day" with "I have all the time in the world. I feel relaxed. I'm confident I'm doing everything I need to do and everything else will take care of itself."
Whatever the mind is set upon, or whatever it keeps most in view, that it is bringing to it, and the continual thought or imagining must at last take form and shape in the world of seen and tangible things. -Prentice Mulford, Thoughts are Things
4. Honor this moment. This is my favorite part. When I honor the fact that there is no "deadline", there is no rush, there is no worry, there is no story of "when it gets done," I return to the only thing I have in the world- this moment.  It is our only asset, our only treasure, and the source of all abundance. What you do right now and how you feel right now are entirely up to you. Choose calm, choose to be happy, choose gratitude. This is the only moment you have to make those choices.
It is entirely possible to be productive, even wildly creative and fruitful without feeling stressed at all.
In fact, the slower and more mindful your actions are, the more space and time you have to do everything you want to do.
Do not dwell in the past, do not dream of the future, concentrate the mind on the present moment. -Buddha