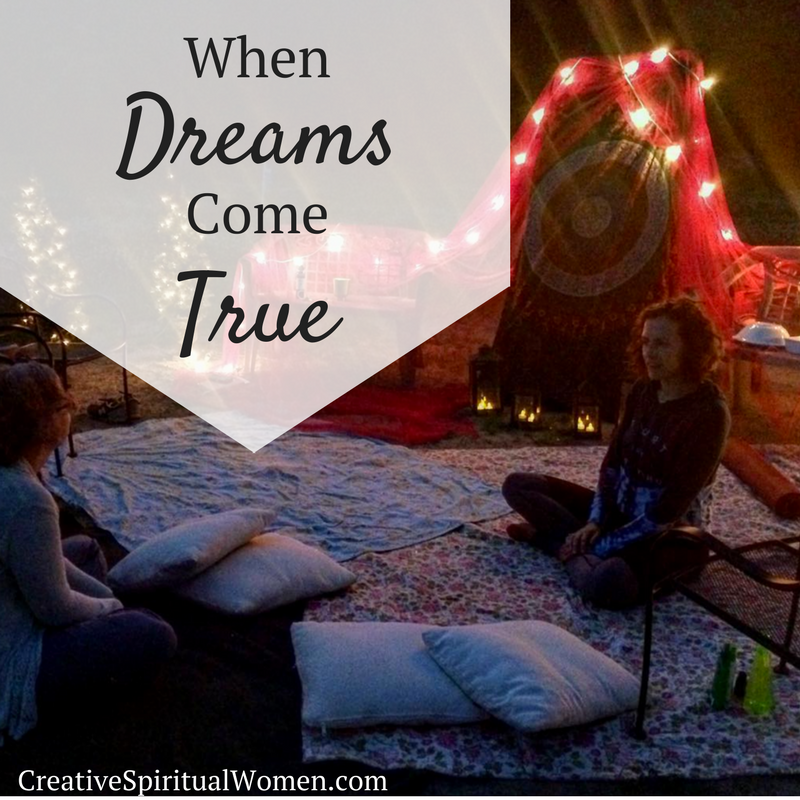 Tonight, in my backyard, a small group of women came together under the full moon in a goddess circle. Surrounded by twinkle lights, we did yoga under the stars, pushed down into goddess pose, laid in savasana under the big dipper and watched the fireflies play in the grass. The moon crested over the trees as we began to talk about our intentions for the group and the sacred space.
It felt like something from a dream. And in fact, it is the beautiful iteration of a dream I wrote to you about earlier– a group of women coming together in the wildflowers and woods to support each other, share together, and hold each other's hands through this lifetime of pain and joy, grief and celebration.
A few weeks ago, Becca messaged me to say she wanted to create the group I'd written about, the sacred circle of women. Not only is she an excellent yoga teacher, but she has the flair for bringing beauty with her wherever she goes- she created the circle of tapestries and canopy of lights and soft red fabric, brought lanterns of flickering light and strings of tiny white globes to surround us.
In the closing meditation, we were all guided to see ourselves as orbs of light- and what I'd written about before came rushing in:
"Light floods the circle from within, lit by the energy of our love for each other, and for ourselves.

Our souls are refreshed, renewed, and on fire- ready to create and sing and dance and tumble forward into this exquisite life of joy and suffering and all the quiet moments between." -Creative Fertility
All of this to tell you two things:
1. Write out your dreams. Release them into the universe. You never know what will happen, and who will be inspired by them.
2. Women, get together in sacred circles more often, support each other, uplift each other, and hold hands. This is one of the most powerful forces in the universe.
Love,
Crystal