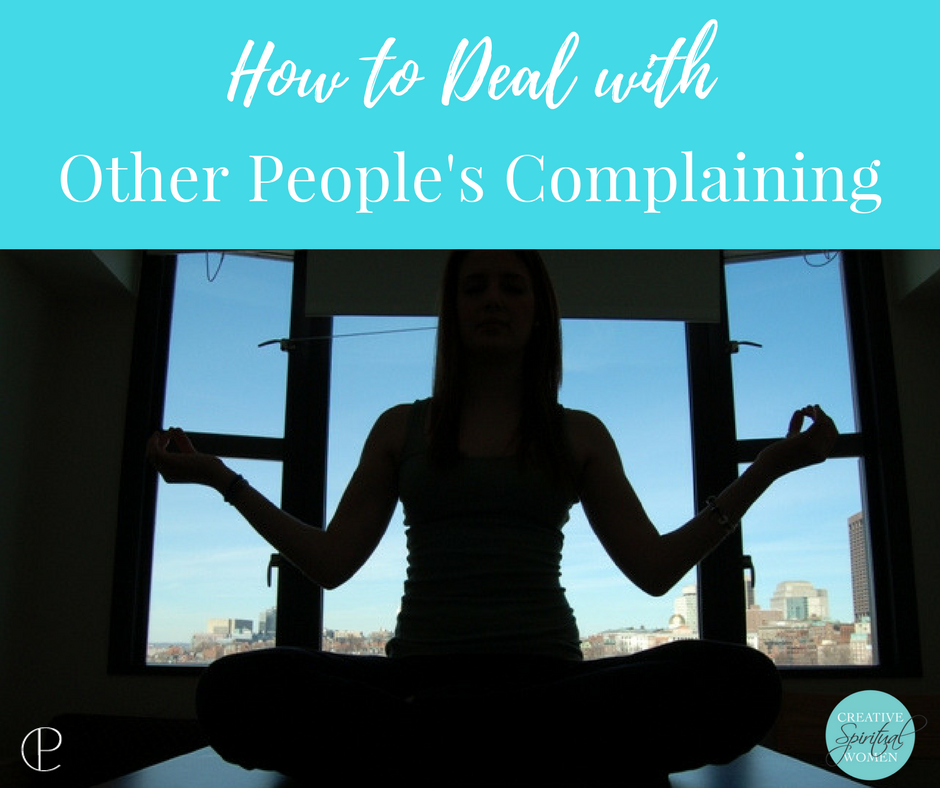 A couple of people in the Complaint-Free Challenge asked me this week, How do I deal with other people's complaining?
We're over here, doing our work, getting as complaint-free as we can, and we run into someone (maybe someone we love dearly) who unleashes a constant stream of complaining that we can barely stomach.
It's interesting to watch yourself here, and see what your reactions are. Here are a few of mine:
1. They shouldn't be complaining. It's draining them of energy and creating a life that sucks.
2. I'm so tempted to complain with them. If I don't say something negative right now, this whole situation is going to feel uncomfortable and they're going to notice that I'm not supporting what they're saying. They may get defensive and complain about me!
3. I don't want to be around this. I want to be around people who don't complain. This is annoying and uncomfortable.
Dive deeper into what you're actually thinking and feeling around this, because that's what gives you clues on how to handle it for yourself.
1. You're judging them for complaining. I don't know about you, but I'm just as guilty about being a complainer as they are. Until you know better, you won't do better, and they are still deriving a lot of what I call passive-aggressive satisfaction from complaining. As Byron Katie says, there are three kinds of business, mine, yours and God's. Worrying about someone else's complaining is their business.
"I can find only three kinds of business in the universe: mine, yours, and God's. For me, the word God means "reality." Reality is God, because it rules. Anything that's out of my control, your control, and
everyone else's control — I call that God's business.

Much of our stress comes from mentally living out of our own business. When I think, "You need to get a job, I want you to be happy, you should be on time, you need to take better care of yourself," I am in your business. When I'm worried about earthquakes, floods, war, or when I will die, I am in God's business. If I am mentally in your business or in God's business, the effect is separation." -Byron Katie
2. To complain with them, in order to not make them uncomfortable, again is in their business (assuming how they will feel, trying to change their feelings) and is also akin to sitting in a mud pit with them even though you've just climbed out and washed yourself off- so they won't feel lonely. Not only is their location in the mud pit not your business, but how wonderful would it be if they were inspired by you, and noticed how nice it could be to be out of the mud and cleaning off? But the most important point here is- you're happy. You're doing what you want to do, for your mental and spiritual health, which is to get out of the mud.
3. When we avoid the uncomfortable situations in the world by saying, "I don't want to be around this, I don't want to experience this," what we're actually saying is, "I don't want to experience my thoughts about this."
Take that in for a moment.
Everything that gives us pain, everything that makes us uncomfortable, does so because of our thoughts about it. We think it's bad. We think it's contributing to something awful. We fail to see the beauty and balance in everything in the world, and we stay stuck in a negative state.
It's possible to look at negative things, and believe that the universe is kind, and there are reasons for this beyond our comprehension or control. It's possible, as the famous quote from Fred Rogers, to look for the helpers instead of the pain or tragedy.
It's possible to look at these uncomfortable situations and think, "What a marvelous opportunity for me to grow and expand!" and "I look forward to many more moments like this, so I can change and grow to where this brings me joy."
It is never the other person. It's simply not their fault. If you're placing blame on them, you're not in your business, and you're handing your power away.
Come home to yourself, your own business, and sweep your own side of the street. Or, as the quote in the Bible says, remove the plank in your own eye before looking at the speck of sawdust in your brother's.
On a very practical level, when I find I'm in someone else's business, I mentally ask myself, "What can I love about this situation? What am I feeling and how do I want to feel? What can I believe to create that new feeling, instead of staying in this one?"
Much love,
Crystal