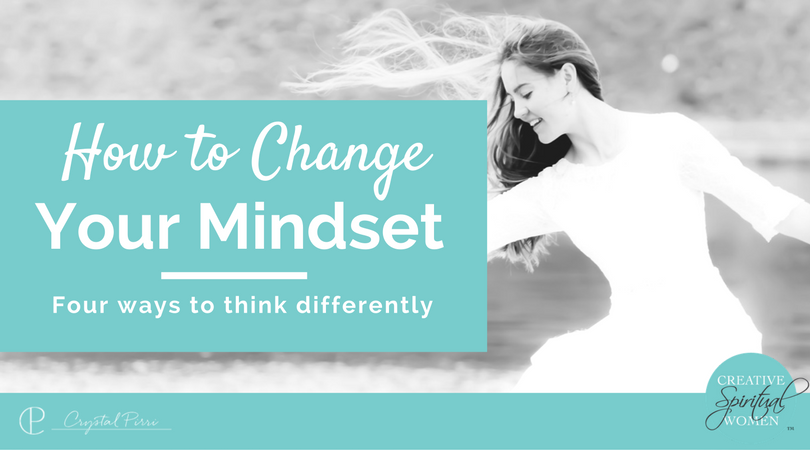 Growing up, I had this inner limitation that I couldn't quite put my finger on. I thought that some people just had what it takes, they were born lucky, or they were in the right place at the right time to do amazing things in the world. I believed that because of my station in life, I could only go so far. Family members would reinforce this with the accusation, "Don't get to big for your britches!" when I would succeed in something.
In an excruciating paradox, I also believed that if I tried hard enough, I could change and get better and become the person I wanted to be.
As a result, I would often start out trying, and then trip myself up with my own limitation of "this didn't happen quickly, so it's not my forte."
As I grew and grew up, there were things that I would doggedly stick with long enough to see a happy result, yet I still held the underlying belief that I couldn't quite have it- that I wasn't born with it, and all this trying and striving really meant that I was unworthy of it.
Carol Dweck's book, Mindset, has completely changed that for me.
In her book, she explains that we have two types of mindsets, Fixed and Growth.
"People with a fixed mindset believe that their traits are just givens. They have a certain amount of brains and talent and nothing can change that. If they have a lot, they're all set, but if they don't… So people in this mindset worry about their traits and how adequate they are. They have something to prove to themselves and others.

People with a growth mindset, on the other hand, see their qualities as things that can be developed through their dedication and effort. Sure they're happy if they're brainy or talented, but that's just the starting point. They understand that no one has ever accomplished great things—not Mozart, Darwin, or Michael Jordan—without years of passionate practice and learning."
-Carol Dweck, from her website
In example after example, people who were untalented, late-starts, underdogs, unlikely players were able to, through a stubborn refusal to give up, succeed and even exceed in what they tried.
I can see now all the places in my life where I've stuck to a fixed mindset, and even happily notice the areas where I've been growth-oriented and stuck with it.
A dear friend of mine is doing work with the mentality around women as they age, challenging the notion that we have to decline or experience certain setbacks. I can't help but notice the parallels in Dweck's work- we either give up and accept our lot in life, or determine to have a different experience, and practice living from that place.
A few of the things I've thought "I just don't have the talent, maybe I should give up" that I'm now determined more than ever to stick with:
Learning a new language
Improving my parenting
Taking on new arenas in my business
Physical tasks, such as flexibility or balancing in yoga
So how do you change your mindset if you know it's fixed in certain areas?
Dweck has an excellent outline with examples on her website- you can read it here.
I've listed the steps below with my own commentary.
How to Change Your Mindset
(from the book Mindset by Carol Dweck)
1. Learn to hear your fixed mindset "voice"
As you know, I'm constantly talking about being present and aware of what you're thinking. Notice when you're having the thought, "I can't do this" or "I'm too old" or "That's not for me"- especially when you also have a secret longing to do the thing. Notice the difference in yourself from truly not wanting something, "Jump out of a plane, no thanks!" and when you want it but are afraid you'll fail, "I'd love to bicycle around France, but it's not safe/it'd be too expensive/I'm too old/I don't know the language."
2. Recognize that you have a choice
How you think about anything is your choice. You can look at the world like it's tough, life is almost over, you have only so much energy and time, you have all these limitations… or you can choose to believe the world is full of beauty and wonder, you have all the time you want to devote to what you love, you're full of energy for what excites you, and there are no limits when you're passionate about what you're doing.
3. Talk back to it with a growth mindset voice
It will become easy to recognize the Fixed voice, and talking back to it is essential. "what if I fail?" can become, "every time I try I get better and better, closer and closer."
One comment I've heard often from my clients is, "I wasted all that time and money and it got me nowhere." Talk back to that voice with, "Look at how much I learned. If I want to keep going, I'll be that much ahead. If I decide to choose something else, I'll have all the wisdom from this experience with me."

4. Take the growth mindset action
It can be excruciating to stop yourself from doing something you really want to do, to listen to the Fixed voice and not allow yourself the joy of what you really want. Take the action that leads you to what you do want. Keep trying- not halfheartedly, expecting to fail, but wholeheartedly, knowing that the experience of trying is part (most) of the beauty of this journey. That what you learn from trying and trying and trying again fills up your inner life with treasure beyond measure. You will learn about yourself, about your perceptions, and about your abilities- which can always, always be improved with practice.
Much love,
Crystal