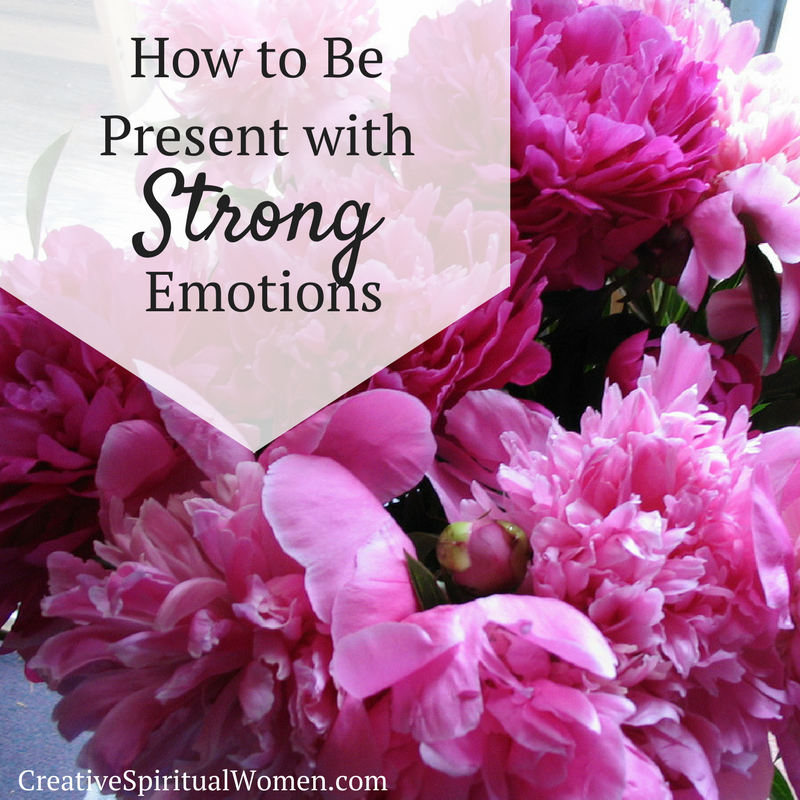 We get caught up in the glamor and drama of not being present. We have the ability to imagine worlds and deeply detailed scenarios, both past and future. Our worry often has no bounds- we worry about microscopic bacteria and massive meteors, and everything in between. We seek happiness like a drug, the one thing that will make us feel okay, the one thing that will make all this struggle worthwhile.
One of the reasons we avoid being present is the discomfort it can bring if we don't know how to handle what is here, in this moment. We are not a culture that embraces strong emotions and teaches us how to process them. For example, many of us weren't brought up to know how to handle and process shame. And we see in others and ourselves what happens when we don't know how to handle and process anger. With any emotion, if we don't know how to be present with it, it can show up in ugly and embarrassing ways.
Step 1: Welcome what you're feeling right now.
In my experience, my happiest moments have come right after being present in the painful ones. Deeply experiencing grief, pain, frustration- all have led to that feeling of happy relief, pride, joy. Yet we try so hard to avoid the negative feelings, to push away the often everyday feelings of shame, worthlessness, frustration, anger, jealousy. When we're present with what is, we're able to work with it. Continually avoiding or pushing it away will only strengthen it (what you resist persists). I imagine this like a lion at the door that I push away with a long arm- the longer he pushes against you to come in, the stronger and more bloodthirsty he becomes.
Fully allow yourself to feel the emotions you've been avoiding. Trust that just feeling what you're feeling for a moment or two will be transformative- and I promise it won't feel as bad as you imagine it will. You don't have to do anything with the feeling except feel it- sit with the anger and let it wash over you. Feel the shame course through your veins. Allow the icepicks of frustration dig in. Again- don't do anything with the emotions, just feel them.
Step 2: Imagine how you want to feel
What would be the best possible outcome? This is where our creative imaginations come into play beautifully- when we direct them purposefully. With anger, I often want something from someone else- an apology, something to change. When I go to the end of that, which is, when they apologize or change, how will I feel? Then you realize that feeling is what you're actually seeking- not the medium of the apology. You feel angry, and you want to feel differently. What's wonderful is this: you get to change how you feel. No external force applied to someone else is necessary.
If you had everything you wanted, how would you feel? That's what you truly want.
Step 3: Welcome the opposite emotion
When you've determined how you do want to feel, now you can welcome it.
Often when we hold a strong emotion, we're resisting all others in our tight-fisted hold on the one that seems so dear. Open to the possibility of feeling the opposite: peace, relief, joy, satisfaction, contentment- without letting go of the original feeling. They are all welcome, and when you open to this you may find, like I do, that all the emotions flow more easily, like the natural waves they are, instead of crushing a tiny amount of ocean in your fist, where it can go stagnant with its purposelessness.
Allow the anger, and also allow the peace. Feel the shame fully, and also feel the pride of a job done well, and satisfaction of doing your best. Feel frustration, and also contentment. Allow them all in, and let me know how that feels for you.