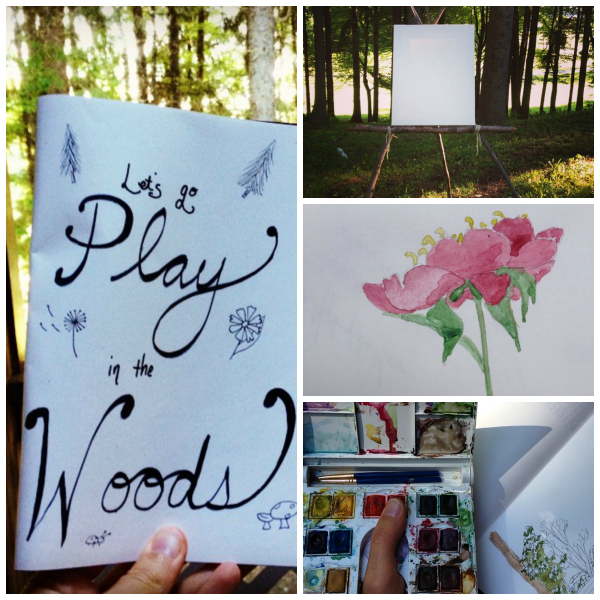 Photos from my Instagram the last few weeks.
These days, I feel less like writing about how to live and more like being outside and living. If you feel overwhelmed, under-inspired, tired, frustrated, or just plain "off", I recommend that you shut down your computer/phone and go outside. As a result of unplugging most of the time (I pretty much only open my laptop every other day or so for about 30 minutes now, though I'm on my phone quite a bit more) I've been: keeping a sketchbook and adding to it every day, painting, creating things in the forest (a handmade branch easel, a branch teepee for my daughter), crocheting, decorating, nesting- and my creative soul is soo happy. If it weren't for the beautiful, enlightened souls who I love to connect with here, I'd be tempted to turn off the internet completely. :)
I've been keeping a list of things I'd love to share with you- last month, I sent it to my newsletter, but this month I'd like to make it a little less private so more people can enjoy.
For some Goddess inspiration one day I opened Leonie's Creative Goddess ecourse and immersed myself in it's gorgeous, hand-drawn and painted pages. I was struck by this line,

"Every artwork you create has a story to tell you, a lesson to impart. I have learned not to give away or sell my creations until I have heard its story and learned what I need to from it."
A dear, dear friend of mine, Sally Deems, launched this beautiful book into the world in the last few weeks. It's a beautiful poem about a little butterfly and all her garden friends, and the illustrations are lovely. I had the honor of helping format it for the Kindle version and the time I spent with those lovely pages was such a joy.
Recently I found this poem by Mary Oliver which makes me feel less guilty for the hours I spent looking up at the trees, not "doing" anything.
Mary Davis, a CSW reader, let me have a peek at this gorgeous app she created for the Apple store. It is such a joy to scroll through the beautiful photos and read the inspiring quotes, and with a tap any of them become your wallpaper. Her vision and determination to bring this beautiful project into the world is inspiring.
Some "mama" books I've read and loved:
Things for kids I love right now (kids of all ages)

Branches all over the forest floor. They can be so many things!
Bubbles! My little one recently discovered the joy of blowing (and trying to catch, and popping…) bubbles :)
May you have a bubble-blessed, sunshiny day!